Our Penobscot Valley Branch is celebrating its 95th birthday!   We have a variety of programs planned which further the mission of AAUW  including women's economic equality and diversity.  In addition to our programs, we also enjoy each other's ideas and conversation at our annual January brunch, "pizza and politics" dinners, and annual meetings.   Please visit the projects and programs pages for further  activities and for national and local information.   
Apply for National AAUW Scholarships now!
Dr, Bonnie Newsom, Assistant Professor of Anthropology at the University of Maine, is a 2019 AAUW American Fellowship Winner!
Our Penobscot Valley Scholarships are due Nov. 25!  See the poster and application.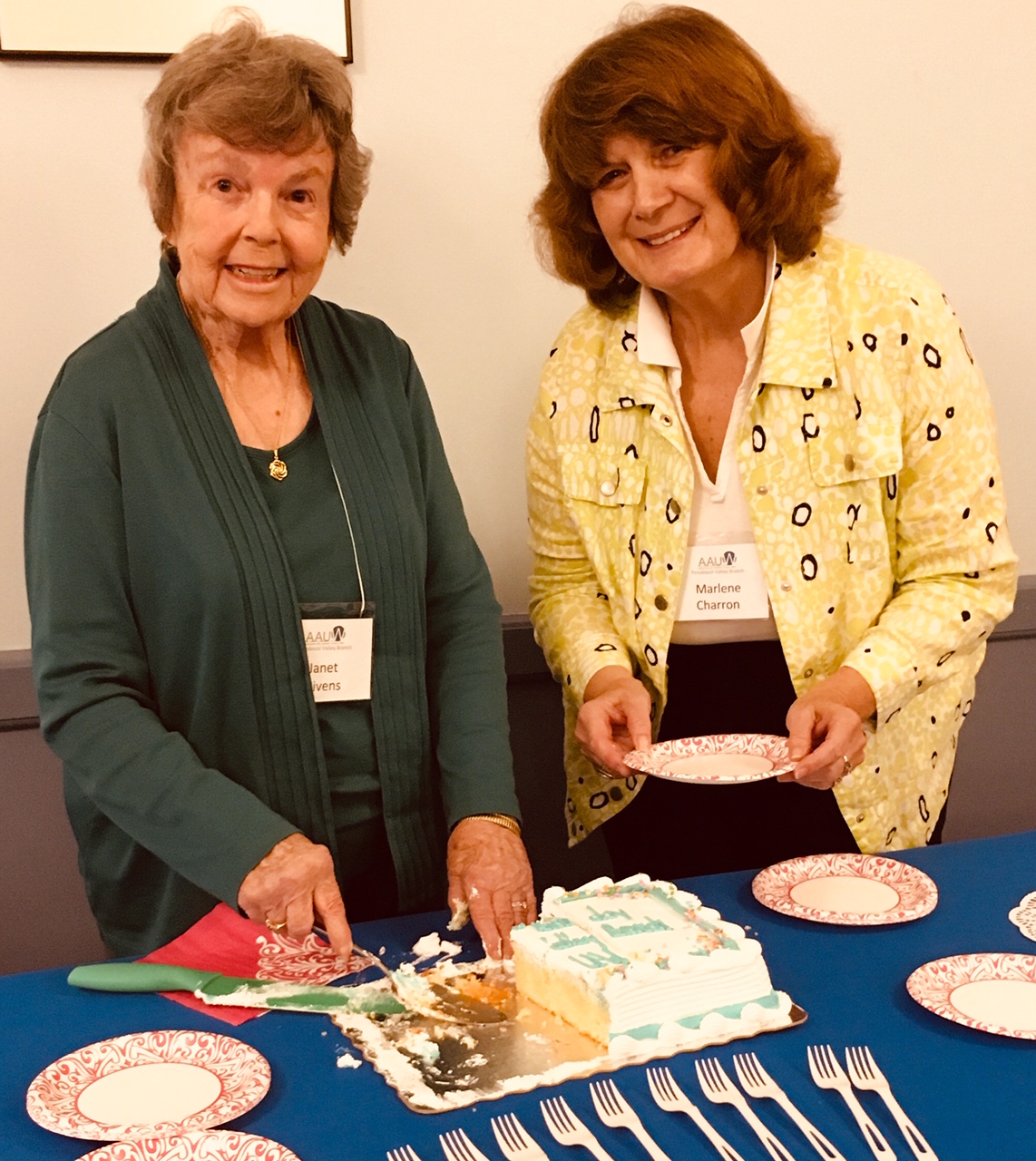 Penobscot Valley 95th Anniversary
Janet Givens and Marlene Charron cutting the cake
Upcoming events:
Pizza and Politics:
Thurs, Nov. 21, 2019, 5:30 pm at Pat's.  There's lots to talk about!
Branch Meeting:
Saturday, January 11, 2020 (Snow date: Jan. 18)
Program: Strictly Social Pot Luck Brunch!
Time: 10 AM  Place: Dirigo Pines Inn, Kenduskaeg Room
Triad: Fran Haines, Janice Osgood, Betty Calkins
Also see our Facebook page:    https://www.facebook.com/pg/AAUWPenobscotValley/posts/
A Little Penobscot Valley History …                 
Originally called the University of Maine branch, our branch was founded in 1924.  Many familiar with the University of Maine will recognize buildings named after these charter members: Dr. Caroline Colvin, Dr. Ava Chadbourne, and Dr. Edith Patch.    Later, in the 90's, we became  the Penobscot Valley Branch.  Our branch now includes members from Bangor, Belfast, Bradley, Deer Isle, Holden, Newburgh, Old Town, and Orono. 
Special Recognition …
Maryann Hartman Awards:
Members and former members Mary Cathcart, Ruth Lockhart, and Katherine Musgrave have received the Maryann Hartman Award at the University of Maine, These annual awards recognize women whose works inspire others and raise awareness of contemporary women's accomplishments.
Maine Women's Hall of Fame
Mary Cathcart, Katherine Musgrave, Sharon Barker,  Ruth Lockhart, and Ann Schonberger are members and former members who have been elected to the Maine Women's Hall of Fame.