Penobscot Valley Branch is  planning a variety of programs by Zoom to further the mission of AAUW  including women's economic equality and diversity.  In addition to our programs, we also enjoy each other's ideas and conversation at our annual January brunch, "pizza and politics" dinners, and annual meeting.   Please visit the projects and programs pages for further activities.  As you know, some of these may have to be changed or postponed.  
To promote

women's economic equality,

AAUW has developed a

free online 

salary negotiation program

!!  Click here:
Apply for National AAUW Scholarships now!
Dr, Bonnie Newsom, Assistant Professor of Anthropology at the University of Maine, is a 2019 AAUW American Fellowship Winner!
Our Penobscot Valley College Scholarships have been awarded to 3 deserving women students.  Abby Mann is currently during field research on the early Wabanaki people.  The results of her study will be given to the Wabanaki. Marie Chanthu Millay is an Arts Education major, a talented artist and a person willing to help other students. Cydnee Atwater works in the Equal Opportunity Office on campus and is taking classes toward a degree in Sociology. Her earlier education was an Associates Degree.
Next Branch Zoom Meeting:
Sat. March 13, 2021
Time: 10 AM to 12 Noon
Place: Zoom – You will receive a Zoom link by email.
Program: Diverse Women in Maine.
Speaker: Francine Umutoni.  Francine is from Rwanda and is pursuing a Master of Arts in Global Policy at the University of Maine's Policy and International Affairs.
Upcoming events: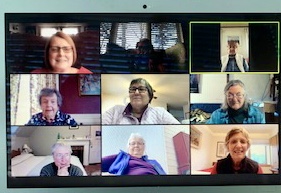 Pizza and Politics:                                    
Wed. March 17, 2021 at 4:00 on Zoom 
Wed. April 21, 2021 at 4:00 on Zoom.
Susan D'Angelo will email the Zoom links.
We have a Facebook page:    https://www.facebook.com/pg/AAUWPenobscotValley/posts/
A Little Penobscot Valley History …                 
Originally called the University of Maine branch, our branch was founded in 1924.  Many familiar with the University of Maine will recognize buildings named after these charter members: Dr. Caroline Colvin, Dr. Ava Chadbourne, and Dr. Edith Patch.    Later, in the 90's, we became  the Penobscot Valley Branch.  Our branch now includes members from Bangor, Belfast, Bradley, Deer Isle, Holden, Newburgh, Old Town, and Orono. 
Special Recognition …
Maryann Hartman Awards:
Members and former members Mary Cathcart, Ruth Lockhart, and Katherine Musgrave have received the Maryann Hartman Award at the University of Maine, These annual awards recognize women whose works inspire others and raise awareness of contemporary women's accomplishments.
Maine Women's Hall of Fame
Mary Cathcart, Katherine Musgrave, Sharon Barker,  Ruth Lockhart, and Ann Schonberger are members and former members who have been elected to the Maine Women's Hall of Fame.